Bergmeister Puts Lizard Porsche on Second Row for ALMS Mid-Ohio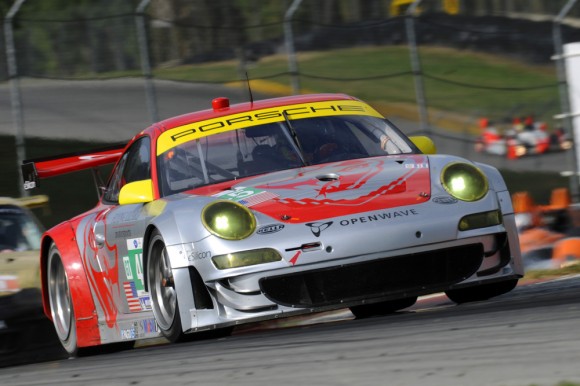 Bergmeister Puts Flying Lizard Porsche on Second Row in GT For Mid-Ohio Sports Car Challenge; Pumpelly Edges Keen for Top Spot in GTC
The Porsche works drivers Joerg Bergmeister (Germany) and Patrick Long (USA) take up the fifth round of the American Le Mans Series on the Mid-Ohio Sports Car Course from the second row of the grid. With the Porsche 911 GT3 RSR fielded by Flying Lizard Motorsports, Joerg Bergmeister, two-time winner at Mid-Ohio, set the fourth quickest time in the GT class qualifying on the 3.621 kilometre circuit in America's Midwest.
"To start from the second row is not so bad considering the strong competition. If we get away well we could probably make up one or two positions," said Joerg Bergmeister. "The 15 kilogram weight handicap that we were handed prior to Mid-Ohio costs us about two-tenths of a second per lap. But we're still hoping that the better strategy of our Flying Lizard crew can make the difference over the race distance."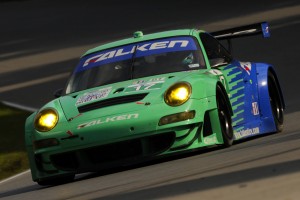 At the wheel of the Porsche 911 GT3 RSR run by the Falken Tire squad, Bryan Sellers (USA) posted the ninth quickest time. Sellers shares driving duties for the race on Saturday with Porsche factory pilot Wolf Henzler (Germany). Sascha Maassen (Germany) claimed the 13th grid spot with Paul Miller Racing's Porsche 911 GT3 RSR. Two places behind him is Seth Neiman from America in the second Flying Lizard Porsche.
The race starts on Saturday at 15.30 hours local time (21.30 hrs CEST) and runs over 2:45 hours, with a live broadcast on www.americanlemans.com.
Qualifying result
GT class
1. Joey Hand (USA), BMW M3 GT, 1:20.539 minutes
2. Dirk Werner (D), BMW M3 GT, + 0.116 seconds
3. Jaime Melo (BRA), Ferrari F458 Italia, + 0.206
4. Joerg Bergmeister (D), Porsche 911 GT3 RSR, + 0.378
5. Oliver Gavin (GB), Chevrolet Corvette, + 0.405
6. Guy Cosmo (USA), Ferrari F458 Italia, + 0.529
9. Bryan Sellers (USA), Porsche 911 GT3 RSR, + 1.382
13. Sascha Maassen (D), Porsche 911 GT3 RSR, + 2.545
15. Seth Neiman (USA), Porsche 911 GT3 RSR, + 4.173
GTC class
1. Spencer Pumpelly (USA), Porsche 911 GT3 Cup, 1:29.521 minutes
Source: Porsche