AXA & TRG Reunite for For ROLEX 24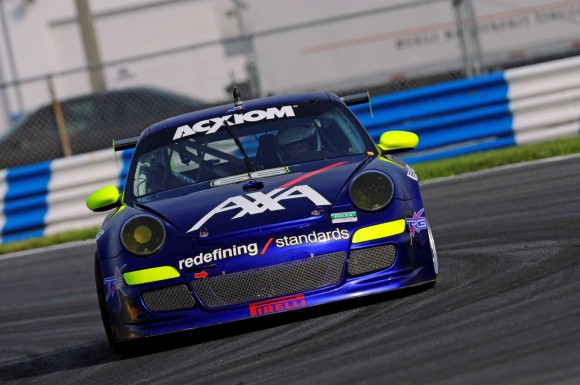 January 7, 2010- Petaluma, CA, After a strong partnership together throughout the 2009 season, AXA and Brent Koch have once again partnered with The Racer's Group (TRG) in pursuit of a victory at this year's historic Rolex 24 at Daytona. This is the final car in the TRG armada and puts TRG is in strong contention to defend their 2009 Rolex victory.
Driving in the No. 66 Porsche 911 GT3 Cup race car will be a stellar lineup of former winners and veterans. Ted Ballou will return to the team for his fourth straight Rolex 24, and hopes to continue his podium run of success. Ted has been second the last two years in a row. Joining Ted will be another native of Southern California, Porsche veteran Pat Flanagan. Pat has been involved with TRG since 2003, and has raced in everything from Daytona Prototypes, to the Rolex GT series, as well as numerous seasons in the IMSA Patron Challenge and Porsche Club of America. Joining the Californians will be three very famous names to the race: Andy Lally, Kelly Collins, and Wolf Henzler. Lally, a two-time winner and the defending champion, has a strong history in the No. 66 and looks to continue that. Collins, who drove with TRG in 2006, has had a fantastic career in GT cars and a strong history at Daytona. Henzler, driving in his first race with TRG, is a previous winner of the race and comes as a highly rated Porsche factory driver.
AXA Financial is a leader in financial protection strategies and wealth management, supporting individual and business clients. The organization and Brent Koch have long been supporters of the team, as evidenced in their partnership throughout much of the 2009 season. Starting with a second place in last year's Rolex 24, the partnership continued throughout much of the season between drivers Ted Ballou and Spencer Pumpelly.
For Team Owner Kevin Buckler, the opportunity to re-unite with such a strong partner, as well as form such a strong driver lineup, is a welcome addition to the mix. "AXA is a fantastic organization and re-defines the standard of a true partner in this business," stated Buckler. "They help us and many others in the sport in so many ways and the Grand-American Rolex Series provides a great platform for AXA to spread their message and look for unique opportunities to forge strong business to business relationships. I'm proud that they've continued with TRG as a means to do so and we work very well together to help accomplish our mutual goals. The driver lineup that we have here is just fantastic. Ted and Pat are always quick at Daytona and both of these guys are super committed to this years race. It's great to see Pat back in our camp. Kelly is not only fast but one of the most solid and predictable endurance racing professionals out there. I'm really excited to work with Wolf after driving against him for so many years, but it says a lot when we all have a mutual respect for each other and invite a long time adversary in to our camp. Andy of course has a stellar history with our team as well as this race and I look forward to seeing this car fight for the win."
For Brent Koch, Principal of Wealth Management Strategies, LLC, the opportunity to bring AXA in to sportscar racing and field opportunities for their financial services has been a welcome one. "We've enjoyed a fantastic year together in 2009, and looking towards 2010 I really hope we can see this program really grow. TRG has created a great platform for us to further our business development, and I really hope to see the AXA 66 on the top step of the podium this year."
For more information on AXA and their variety of services in wealth management and equity, visit www.axa-equitable.com, or contact press@theracersgroup.com for more information.
TRG was founded in 1993 and has been competing at the top level of motor racing ever since. The team has the most wins of any team in the Grand-Am Rolex Series with 26, including the 2005 and 2006 Rolex Series GT championship trophy to go along with wins at the Rolex 24 at Daytona and the 24 Hours of Le Mans.
TRG is a manufacturer and distributor of high-performance racing parts. The group specializes in engine and chassis tuning as well as full service professional race car preparation. The company also provides electrical and mechanical engineering services, driver development and arrive-and-drive opportunities. TRG is based in Petaluma, California, near its home track of Infineon Raceway in Sonoma. The company's NASCAR operation is based in Mooresville, North Carolina and a new state-of-the-art facility is coming on-line at New Jersey Motorsports Park in 2010.