AWE Tuning Sponsored Ed Kovalevich Takes Top Honors In H-Class PCA Grand-Am Support Race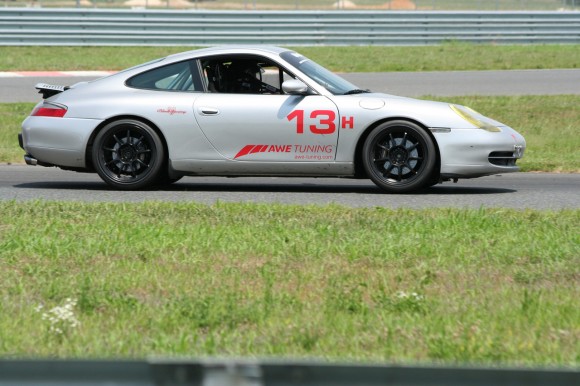 Ed Kovalevich in the AWE Tuning Sponsored Porsche 996 took first in class in H-Class PCA on Sunday, July 24th, 2011 at New Jersey Motorsports Park's Thunderbolt Raceway in Millville, NJ.
Kovalevich held first through the race, despite extreme heat from both Charles Belluardo ('07 Cayman S) and traffic from a lapped car in turn 12.
"[Charles Belluardo] fought back to a couple of car lengths behind me then I caught a lapped car in the last turn, and had to hit the brakes. This put Charles right on my bumper running down the front straight to turn 1," states a smiling Kovalevich.
"We caught another lapped car in turn 1. Charles and I got inside him and passed him in turn 2… we both over-steered in the marbles at the exit of 2, but Charles spun. I held my position ahead of Pete Debusmann, who made a late-race charge, finishing second."
This win followed a second place finish in H-Class PCA Race #1 the day before, where Kovalevich was passed at the start of the race by the number two qualifier, Belluardo, which sparked a race-long rivalry and side-by-side corners. After passing Belluardo, a lapped car spin out on turn five caused Kovalevich to drop to second place behind Bellardo.
About Kovalevich
Kovalevich is a successful PCA racer, competing on well known East Coast tracks including Summit Point and New Jersey Motorsports Park, driving in combined enduros and a variety of sprint races. For over a decade Ed has also been a national certified PCA instructor, driving coach, and served as a crew chief. He is a resident of Mullica Hill, NJ where he lives with his wife, Dana, and their Chihuahua, named Chica.
Source: AWE Tuning