AWE Tuning Releases Much Anticipated Panamera S/4S Exhaust System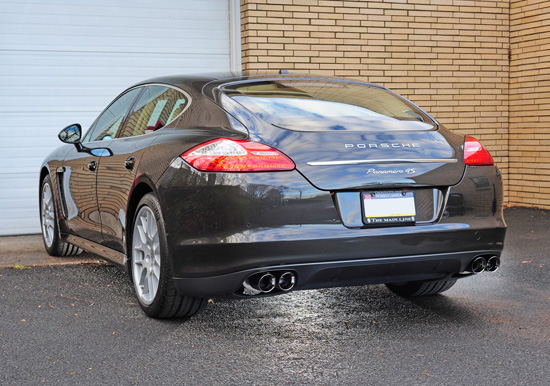 AWE Tuning has announced the release of the latest addition to its ever-expanding line of world class exhaust systems: The Porsche Panamera S/4S Exhaust.  Countless research and development hours from within the AWE Tuning Fabrication and Engineering Departments have yielded what has been called "the finest Panamera exhaust on the market." AWE Tuning's Panamera S/4S Exhaust System delivers "an exotic wail at full throttle yet can be quiet and civil during part throttle, around town driving," states AWE Tuning VP of Marketing, Jesse Kramer.
"I'm particularly proud of this one," states Chris Dollery, AWE Tuning's Director of Engineering, present at the record-setting run at Cecil County Drag Strip, "This is a daily driver – a car that anyone can own. Stock engine. Stock transmission. No special software or prototype parts, not even drag tires."
System Highlights:
Hand-crafted, every detail of this exhaust was labored over to ensure maximum performance and longevity:
Peak Gains +6 crank hp @ 5550 / +6 crank tq @ 4900
Max Gains +12 crank hp @ 6000 rpms / +11 crank tq @ 6000
Increased pipe diameter to 2.5″ to better let the engine exhale
Specially developed Helmholtz Resonators to eliminate drone
X-Pipe for enhanced exhaust scavenging and improved tone
AWE Tuning engraved, double walled Polished Silver or Diamond Black adjustable tips
T304 stainless tubing
Stainless band clamps
Lifetime Warranty
The Helmholtz Resonators used in this system are truly special units and are the key to eliminating drone.
"Our Panamera Exhaust Development called for an evolution of our existing Helmholtz Sound Cancelation Resonators …" states Ron Mangus, AWE Tuning's Manager of Fabrication, "… we used complex computer modeling to develop Helmholtz Resonators that would effectively target and eliminate the unpleasant frequencies (a.k.a: drone) in this application."
When combating drone with traditional perforated style mufflers/resonators, the system traditionally needs to be made "quieter" to eliminate the unpleasant sound at specific frequencies. But the Helmholtz units allow AWE Tuning to isolate unpleasant frequencies and eliminate them without changing the volume of the exhaust system.
AWE Tuning's Panamera S/4S Exhaust System is capped with slash cut tips featuring the AWE Tuning logo. These tips are double walled to ensure a mirror finish even under hard usage. AWE Tuning will offer the classic Polished Silver or noted Diamond Black tips. Tips are individually adjustable, so stagger and depth into the bumper can be set according to personal taste.
Source: AWE Tuning