Another Famous Porsche Added To The Rolex 24HR 50th Anniversary Display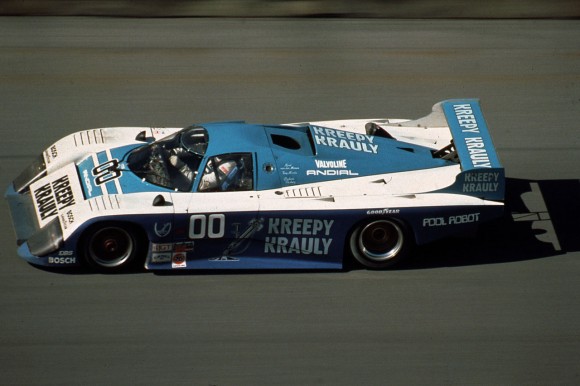 1984 Rolex 24 Overall Champion No. 00 Kreepy Krauly Porsche-March Joins the 50th Anniversary Display
The No. 00 Kreepy Krauly Porsche-March driven by a trio of South African drivers Sarel van der Merwe, Tony Martin and Graham Duxbury will join the display of overall Rolex 24 At Daytona championship cars to celebrate the 50thanniversary of the twice-around-the-clock challenge on Jan. 28-29.
Owned by Kreepy Krauly, a South African manufacturer of swimming pool-cleaning equipment, the team was based out of Atlanta and had never competed at Daytona International Speedway. The only team member with prior racing experience at Daytona was van der Merwe.
The team didn't experience too much drama in their first Rolex 24. With the exception of running out of fuel and a broken gearshift knob, the No. 00 car didn't suffer any serious setbacks in the race, which featured the chicane for the first time.
The Kreepy Krauly Porsche-March took the lead for the final time on Lap 254 and scored a nine-lap margin of victory. The team completed 640 laps, 2,476.8 miles and averaged 103.119 mph.
The No. 00 Kreepy Krauly Porsche-March joins the field of historic championship cars in the display:
1968 Rolex 24-winning Porsche 907
1970 Rolex 24-winning No. 2 Gulf Porsche 917
1977 Rolex 24-winning No. 43 Porsche 911 RSR
1981 Rolex 24-winning No. 9 Bob Garretson's Style Auto Porsche 935
1982 Rolex 24-winning No. 18 JLP Porsche 935
The Preston Henn Porsches from the 1983 and 1985 Rolex 24s
Additional cars will be announced as they are secured to be part of this one-of-a-kind display.
The Rolex 24 At Daytona, the kick-off event to Speedweeks 2012 as well as the international motorsports calendar, showcases the world's best drivers competing against each other lap after lap for 24 hours on Daytona International Speedway's challenging and demanding 3.56-mile road course.
Tickets for the 50th anniversary of the Rolex 24 At Daytona are on sale online at www.daytonainternationalspeedway.com or by calling 1-800-PITSHOP.
Source: DIS