Alex Job Racing to Run Two Porsche GT3 Cup Cars for Rolex 24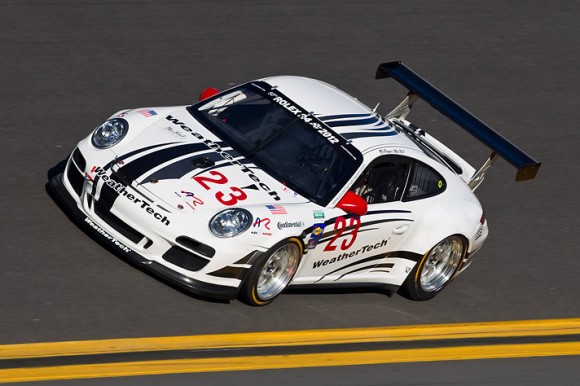 Alex Job Racing (AJR) will field two Porsche GT3 Cup cars for the 50th running of the GRAND-AM Rolex Sports Car Series Rolex 24 At Daytona, Jan. 28-29, 2012.
The Florida-based team is preparing the No. 23 WeatherTech/Alex Job Racing Porsche for drivers Cooper MacNeil, Butch Leitzinger, Emmanuel Collard and Porsche factory driver, Marco Holzer.
In the No. 24 McKenna Porsche/Battery Tender/Alex Job Racing GT3 Cup will be Michael Avenatti, Bob Faieta, Bill Sweedler, Fred Poordad, and Cort Wagner (who won the Rolex GT driver championship in 2003 and the Rolex 24 Hour in 1999 driving with AJR).  This car is being run in cooperation with Competition
Motorsports of Southern California and AJR.
The team participated in the Dec. 6-7 test at Daytona International Speedway with Cooper MacNeil and sports car ace Butch Leitzinger handling the driving  duties. "The WeatherTech/AJR Porsche was great on both test days," MacNeil said. "The transformation of the car from IMSA spec GT3 to Grand-Am spec was huge. It was like driving a brand-new car. I had to get reacquainted with the Porsche, but it wasn't hard because Greg Fordahl (AJR engineer) had it handling great. The other cars were quick, but we were right there with them. We have a few bugs to work out between now and the January test, but I have no doubt in my mind the car will be great. The AJR team was rock solid, once again. I can't wait for the race."
Michael Avenatti has assembled a strong team in concert with AJR to run the Rolex 24. "With the experienced team that we have assembled and the approach we are taking, our expectations for the race are running very high," Avenatti said. "There is no doubt that AJR and Competition Motorsports will have the No. 24 ready to run at the front.  It will be on the drivers to make that happen."
Leitzinger quickly found the comfort zone with the AJR Porsche. "Alex's team put in a lot of work to get the car switched over to Grand-Am spec for the test, and  the car ran great throughout the two-days," Leitzinger said.  "We improved each time that we went out, discovering what the Porsche liked. Fortunately, Alex's group is so familiar with the Porsche and with Daytona, that they were able to zero in on a set-up very quickly. Our goal for the test was to get a comfortable, quick set-up on the car, and we achieved that.  We can go into the holidays confident that we will be competitive for the race."
Alex Job, team owner, considers the outing a good step towards success for the Rolex 24 Hour At Daytona come the end of January. "Our goal was to confirm our work on the transformation of our Porsche GT3 Cup car to the Grand-Am specifications, and we accomplished that goal," Job said. "Cooper and Butch gave great feedback to the team, and we were able to get a good baseline set-up that we can transfer to the No. 24 car when we come back for the test in early January."
Source: Alex Job Racing