Advertise
THE NEWEST & FASTEST GROWING PORSCHE PUBLICATION 
The all-new 9Magazine offers a number of programs through which we can help you increase your business. Our readers are avid hands-on Porsche enthusiasts always looking to enhance their ride. In addition to traditional magazine advertising, our sales staff can also provide you with comprehensive multi-media advertising campaigns using print, internet and direct mail. To find out how your company's products or services can benefit from any or all of these programs please contact our advertising sales department at:
1-(877) 243-0009
or via e-mail advertising@9magazine.com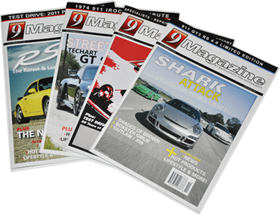 Printing:
Printed in full-color on high-quality paper, with dynamic glossy covers, 9 Magazine provides readers with a quality publication packed with information and a great place for your Porsche® related product or service advertisement.
Digital Editions:
In addition to our print publication, 9 Magazine is currently available in digital format for Apple iPad® and Android® Tablets. Your single ad placement reaches all three platforms in each issue.
Other Readership:
While 9 Magazine in print is currently available by subscription & mailed to subscribers, people pick up copies throughout the Porsche community from dealerships to tuner shops.

Additional distribution locations include:
Porsche® Dealers

Shows & Events
Repair Shops
Advertiser's businesses & more.
Online Advertising:
9 Magazine's website is updated daily with Porsche® News, Motorsport News, and Featured Content. In addition, traffic is driven to the website from social media outlets and industry links. Our website traffic has increased more than 50% in 2011 to over 14,000 unique visitors per month. Website advertising offers a great ROI for clients and many sizes and spots are available. Our most popular standard sizes are:
Printing Information:
300 dpi
Trim size 7 1/2″ X 10 1/2″
Electronic media; CD, Flash Drive, JPG or PDF format preferred
E-mail art (photos, logos, etc.) preferably as JPG or PDF.
FTP Upload Available
 Deadlines:
Display ads: 15th of preceding month
Editorial: 1st of preceding month
 Our 2013 Media Kit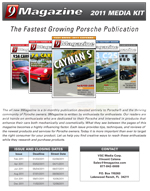 Files are in Adobe PDF format.
If you don't have PDF reader software you can download it for free here: