A New Title For Clarke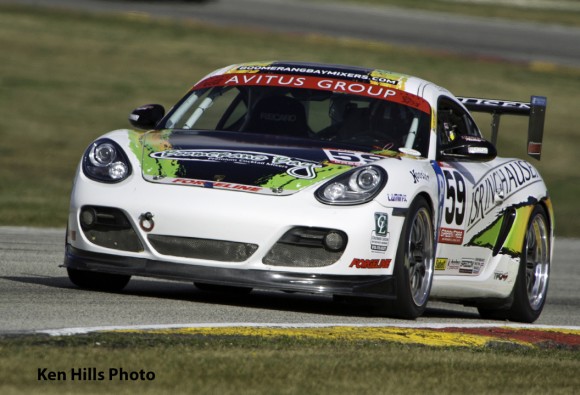 As a long time motorsport aficionado, I instantly recognize the name Dan Clarke as the "Speedy Dan" I used to cheer for in the now defunct Champ Car open wheel series.  It is quite obvious that he remains just as speedy as ever, though he has recently traded wings and open wheels for tin-tops, fenders, and a Porsche badge with the Isringhausen racing team Porsche Cayman in the Intercontinental Trophy Cup series. Clarke has been the absolute class of the field, and has put on a masterful show all season long. Even though he did not take part in the season opener at Sebring back in February, Dan took it to the top, winning all of the remaining 12 races of the season.
It is immediately obvious that Dan is an astonishingly quick driver, but it is equally obvious that Isringhausen has built him a quick, competitive, and reliable racing Cayman. Geoff Isringhausen himself drove the sister car in competition, and contributed to the pair winning the ITC teams championship, despite stiff competition from Bodymotion racing.  Along with the teams championship, however, Mr. Clarke absolutely ran away with the individual drivers P1 Class championship, and once he grabbed it, he never looked back.
Clarke is relishing the chance to defend his ITC Series title in 2013 and the chance to compete in the new GTP Class Cayman. "These will be 400hp slick tired cars with more aero downforce and carbon fiber body panels, weighing it in at 2500lb instead of this year's 3050lb," enthused Clarke. He went on to say that "they should be amazing to drive I'm hoping I get a chance to race one for Isringhausen Motorsports!"
Dan wants to stay loyal to the team and series that gave his sports car break in 2012 but he is also looking at establishing himself as a professional GT racer in 2013. "I'm 100% working on team relationships in the Grand-Am series right now and I hope this year's success has raised some eyebrows." Clarke is confident that the ITC Series title can open some doors. "I have demonstrated that I can drive sports cars fast now. Anyone out there who can help me get a foot in the door with a team, please feel free to come forward and reach out to me".
With doors having been opened, and his dominance reasserted, I look forward to seeing Dan driving something very quick, very soon.  I hear Porsche is developing an LMP car, maybe give them a call?
If you would like to see just how speedy Dan can be, here is some in car footage from his smashing pole lap at Road America.

SEE THE VIDEO HERE
For more information on the ITC, the newly formed GTP class, and where you can see them race in 2013, visit http://www.trophycupracing.com
Source: 9sixtytwo media