A Closer Look At The Super Sports Car of Tomorrow
918 Spyder – A legitimate Successor To The Carrera GT
With all the recent hype surrounding the Porsche 918 Spyder prototype photos released this week from Porsche, we thought it would be good to take a closer look at this engineering marvel. With more than half of its development time completed, one thing is very clear: the Porsche 918 Spyder is firmly on course to become the super sports car of tomorrow.
As a plug-in hybrid vehicle, it logically combines a high-performance combustion engine with cutting-edge electric motors to deliver performance that is beyond extraordinary: the best of both worlds endows the 918 with the dynamics of a racing car packing more than 770 hp of power accompanied by fuel consumption, which at approximately three liters per 100 kilometers, is less than that of most modern compact cars.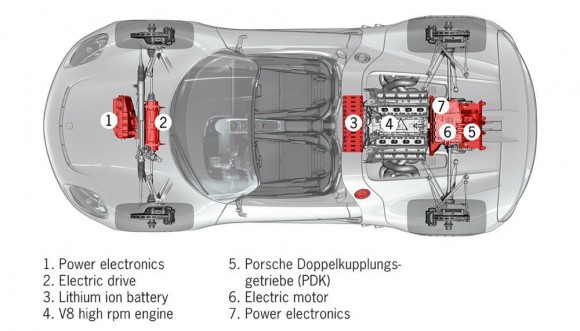 Porsche is breaking yet more new ground with the technology demonstrator with spectacular solutions such as the full carbon fiber reinforced plastic (CFRP) body, fully adaptive aerodynamics, adaptive rear-axle steering and the upward-venting "top pipes" exhaust system. In the process, the 918 Spyder is offering a glimpse of what Porsche Intelligent Performance may be capable of in future.
The 918 Spyder has been designed as a super sports car and the legitimate successor to the Carrera GT. As such, the first goal was obvious: improving yet again on the Carrera GT's performance. As far as is currently known, the 918 Spyder will be significantly faster – both in terms of acceleration and also performance on the racing circuit: less than three seconds from zero to 100 km/h (Carrera GT: 3.9 seconds) and less than 7:22 minutes on the Nürburgring Nordschleife (Carrera GT: 7:32 minutes) is an unmistakable statement. The uniqueness of the 918 Spyder is best represented by the union of outstanding performance with a level of efficiency never seen before in the super sports car sector. Fuel consumption of approximately three liters per 100 kilometers and an electric range in excess of 25 kilometers are unprecedented.
Source/Photos: Porsche