9Magazine Predicts: Who Will Drive the Porsche LMP?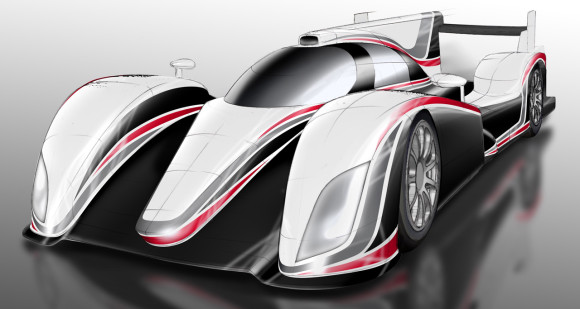 We are now fully entrenched in that time of the motorsport season known as "the silly season". During the silly season, rumors abound concerning who will have a drive for the next season, and what teams will be changing their rosters.  Like oncoming Christmas seasons, it seems like the Silly season starts earlier every year, and in fact, I am kicking off the 2014 season a whole year early!
As we know, Porsche will be bringing a new top-tier LMP1 prototype racer to Le Mans in 2014.  Porsche has a handful of factory drivers, many of whom are more than capable of driving a prototype, though some have only had experience in tin-tops.  Besides, Porsche is sure to continue their 911 program, and they are known to loan out factory drivers to the GT ranks of competition.  While nothing has been confirmed, a top shelf effort requires at least two cars, and four drivers per car.  So, keeping that in mind, Porsche is surely on the lookout for capable and eligible drivers to slot into their teams.
Keeping in mind that the car is unlikely to be shown until as much as a year from now, I want to take this time to provide my predictions on whom Porsche will contract to drive their newest pride and joy.  This is all purely conjecture, and should be regarded as such.  We are interested in your views, and our Facebook page is always open to your responses.  Tell us your ideal 8 driver lineup there, and we can compare notes, and possibly even make some friendly wagers on the actual outcome.
The safe money would be on Porsche re-acquiring their drivers from the Audi program, having loaned the sister company's diesel prototype program the driving talents of Romain Dumas, and Timo Bernhard.  One of Porsche's highest lauded drivers, Patrick Long, also has prototype experience with the Penske RS Spyders of 2007 and 2008, and would be a shoe-in.  While perhaps an unknown in a prototype, young Marco Holzer has competed at Le Mans three times with relatively good result, and comes from a background of high downforce high power open wheel cars.
With Peugeot leaving the scene at the beginning of the 2012 season, there are a few prototype drivers left without a solid drive in 2014.  The most competitive of these drivers also have extensive open wheel experience, helpful in regard to downforce and tire conservation.  Two, chief among this crop, are Sebastien Bourdais and Simon Pagenaud.  Both with extensive Le Mans experience, they have proven that they could belong.
My final choices are the ones I am, perhaps, most excited about.  From the recent and current ranks of Formula 1 drivers, I would choose Mark Webber and Michael Schumacher.  Webber, currently driving for the highly successful Red Bull Racing team, has recently been given a single year contract for the 2013 season, and his future with the team is uncertain.  Before embarking on a career in F1, Webber was a key driver in Mercedes' lineup for the 98 and 99 Le Mans 24 hour events.  While the car was unsuccessful, Webber has proven his ability to handle an endurance event, and has shown that he has plenty of speed to compete.  Schumacher, ironically, also has Le Mans experience with Mercedes Benz.  Having driven with the Sauber-Mercedes sportscar team in 1990 and 1991, Schuey impressed greatly.  While he is in his early forties, his recent re-retirement from F1 has shown that he is still capable of quick laps in a quick car.  In his prime, Michael was known, not only for his speed, but for his consistency, a key feature in endurance racing.
As backup drivers, on the off chance that any of these drivers are not eligible to compete for my team, I would hold Robert Kubica and Dan Clarke.  Polish phenomenon turned perpetual injury report Robert Kubica is quick as lightning, and should be completed with recovery by June 2014.  Perhaps ex-ChampCar and current Porsche wheelman "Speedy" Dan Clarke is an odd choice, but having seen him drive the wheels off of some impressive machinery, I would not think twice about putting a steering wheel in his hands, given the opportunity.
Dumas, Bernhard, Long, Holzer, Bourdais, Pagenaud, Webber, Schumacher, Kubica, and Clarke; these are my 10.  These are my drivers, and I would place any of them in the LMP1 car of my construction without question.  The future remains to be seen, and Porsche may not pick any single one of my choices.
Illustration: Google/Autosport