918 Spyder With Weissach Package Cracks Million Dollar Mark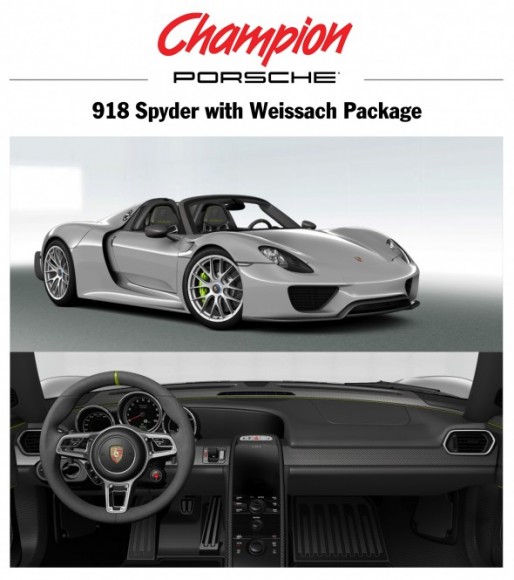 The Million Dollar Porsche
Champion Porsche in Pompano Florida has announced it's got an extra 918 spyder to sell and has published the price and build specifications. The new 918 Spyder with the Weissach package lists for a whopping $1,002,500. This includes options of $73,500 for a grand total that cracks the one million dollar mark!
The 918 Spyder has been designed as a super sports car and the legitimate successor to the Carrera GT. As such, the first goal was obvious: improving on the Carrera GT's performance (and price$$). As far as is currently known, the 918 Spyder will be significantly faster – both in terms of acceleration and also performance on the racing circuit: less than three seconds from zero to 100 km/h (Carrera GT: 3.9 seconds) and 7:14 minutes on the Nürburgring Nordschleife (Carrera GT: 7:32 minutes) is an unmistakable statement.
The uniqueness of the 918 Spyder is best represented by the union of outstanding performance with a level of efficiency never seen before in the super sports car sector and the cost for this uniqueness is shown here:
Liquid Metal Silver paint shows as a $63,00 option, while the front lifting systems rings in at $10,500. For the price of these two options, you could get a real nice 997 on the used market!!
Source: Champion Porsche