9 Magazine Talks With TruSpeed Motorsports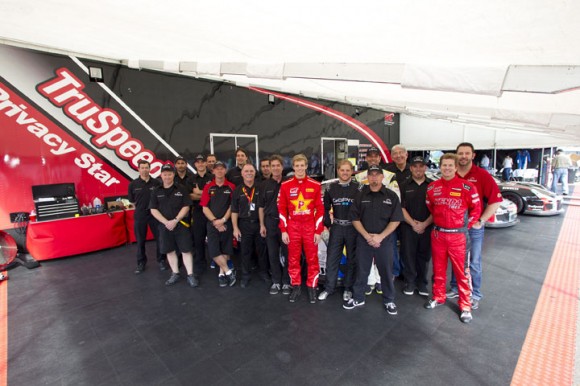 The 2011 season of the Pirelli World Challenge saw series regulars TruSpeed Motorsports become stalwarts, with the team raking in not only the top rung GT class championship, but also helping Porsche clinch the manufacturers' championship and Patrick Long  the drivers' championship for his consistent podium finishes throughout the season. With big race shoes to fill, last year's Touring Car class champion Lawson Aschenbach has stepped into the #1 PrivacyStar / Entrust Porsche 911 GT3 Cup for TruSpeed, along with Justin Marks in the sister car. 16-year-old newcomer Madison Snow, along with seasoned World Challenge drivers Tomy Drissi and Jeff Courtney, will pilot three other TruSpeed cars at various races throughout the season.
9 Magazine caught up with some of TruSpeed's drivers at the World Challenge season opener on the streets of St. Petersburg.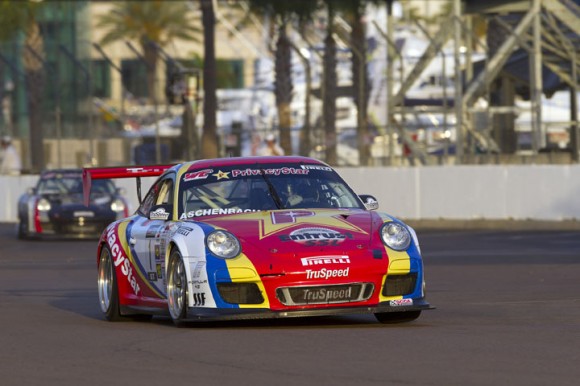 Lawson Aschenbach
How did your practice session go today?
Good. We have a pretty good car from last year, and we haven't really encountered anything unexpected. We knew we had a decent shot here because obviously this is a pretty good track for the Porsche. The most important thing is staying clean and making it through the traffic, which seems to be a problem for some people.  Hopefully in qualifying we'll know where everybody else stands, but the biggest thing is really the traffic, which you can't do anything about. There are a lot of cars out there for such a short track.
You're coming from a Civic in the World Challenge Touring Car class, which you won the championship in. How is it stepping from that into a 911?
I've raced Porsches before, and I actually won the series in 2006 in a 911, so it's a homecoming for me in a way. Of course it takes a few laps to learn any car, but the minute I was in the car all the memories seem to come back pretty quickly and then you just get down to work. We've got a great team, a sorted car right now and it's more just a matter of getting my feet wet again and getting back into it. It didn't take too long, but it's just about going back to racing again.
What do you like about driving a Porsche?
You know, this is a very well-built, proper race car. I have fond memories of Porsches in the past around 2005 and 2006 when that was pretty much all I was dealing with, but the cars have still come a long way since then. It's a very driver-friendly car: it's fast, it brakes well, it steers well. It does what a Porsche is supposed to do, which is cool. You know when you see 911s on the street that they are true race cars, and it's kind of interesting to see a manufacturer that takes the technology they learn from racing and put it into their street cars. It really comes down to being a very well-built, proper race car, and it's awesome. I love it.
What do you drive when you're not on the track?
I actually drive a GMC Denali. I'm a truck guy, and I've always been a truck guy. It's kind of a nice change of pace.
When you made the transition from open-wheel racing into sports cars, what was that like?
I went from open wheel right into Porsches. It wasn't as tough a transition as I was expecting it to be. The biggest difference is that you have to get used to the body roll, and how much more weight is moving around and so forth. The cars are very well-built, and it's probably actually easier to go from an open-wheel car into a Porsche versus something like a front-engine V8 sports car. The transition I took from open-wheel to Porsche, then on to GM with Cadillacs/Camaros, and more recently Honda was actually pretty natural. Like I said, they are proper race cars, so the transition wasn't that bad.
What do you do as a team to a stay competitive, and have there been any changes to the car since last season?
We had to add some weight to the car since last season because of rule changes. During any off-season, we're always looking at ways to make the car better. There are components from last year's car our engineers dug into to try to make them better. We had the opportunity to do some testing a couple weeks ago, and that went very well.  We're excited; we're very optimistic. There are cars that have caught up to us a little bit this year because of the rule changes, but as with any race team it's a never-ending battle, so we'll do whatever it takes.
Who do you think will be your biggest competition this year?
There are so many good teams out here. You've got Team Cadillac, who I'm very familiar with. They're a really good operation over there; great team, great drivers. You've got the K-Pax Volvos; I think last year was sort of a rebuilding year for them, but they are a very stout team. And now you've got the CRP Racing Nissan GT-Rs, which I'm sure they will get running really well. One of the best things about this series is that there are so many different types of sports cars, all racing each other, and there are obviously some bragging rights at stake for teams but they're also at stake for manufacturers. That's what sports car racing is all about for me, and I think everybody is going to see some really hard battles this year.
Finally, what's your favorite race on the calendar this season?
Good question. You know, I've always been a huge fan of Mid-Ohio. It's one of my favorite tracks and I always look forward to going there. The great thing about this series is that, travelling with IndyCar, there are so many exciting street races for the fans like St. Petersburg, like Detroit, like Long Beach. A lot of series can't say they're involved in that many street races. I think for the prestige factor, the street races are really important- especially Long Beach. I think you could almost call that the crown jewel on our calendar. But I'd say Mid-Ohio is probably my favorite to drive. They're all really great, though. St. Petersburg was the scene of my first win, so I still have fond memories coming back here because of that.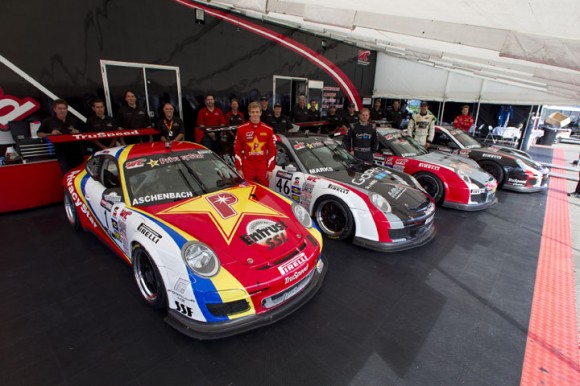 Jeff Courtney
So how was the car today?
We had a few issues in the last session.  We had a radiator hose come loose after a couple laps, but to be honest with you, we just bought the car about three weeks ago and it's been a fire drill. To get it into World Challenge trim and run it in the first session without any issues is pretty amazing. We had a hiccup, obviously, with the short amount of track time available here,  and we need to shake the car down- but it is what it is.
How's the GT3 on a street circuit like this?
This will be my first time. I come from Vipers; the last two seasons I ran a Viper in World Challenge and then last season I ran a couple races with a Porsche. I'm still probably only about 80% there on really learning how to drive them properly.
How do they differ from something like a Viper?
Lighter, shorter, more nimble. They should be a lot better on a street course, so I'm looking forward to it once I learn it properly. There's less torque obviously, so it's more of a momentum car.
What's been your Porsche experience before this?
I ran a couple of events last year with GMG. The first one was pretty bad; we had a brake line failure at Mid-Ohio and I took a pretty hard hit. We had a good run in the last race of the season at Road Atlanta. It's not really a Porsche track but we did well. I'm looking forward to learning the car and driving them properly; they're fun cars and if anybody knows how to set them up, TruSpeed does.
Justin Marks
So you're coming from stock cars into a 911. What's that transition like?
There's nothing to compare. The only context you have is when those things are on a road course. I mean, they weigh 500 pounds more, they have a solid axle and no tires. 800 horsepower. It's a pretty big adaptation to make.
 You haven't had a ton of background with street courses. How are you liking St. Petersburg so far?
I love it. It seems like a really pure sort of expression of the sport, because it's street cars on streets. So, in that respect, it's sort of like where racing started. I love doing it because it's sort of the essence of high performance driving in its purest form.
How's the 911 around a street course?
It's really good around a street course. A lot of these corners are 90 degree, slower, second-gear corners, what we call kind of "point-and-shoot" corners. It really suits the Porsches driving style because it's got all that weight in the rear and it gets up off the corner really well, and it's got great brakes. So in that respect, the more 90 degree corners you can line up, the better, because they react really well to the weight transfer and squirting out of those tight corners.
What's your racing background?
I came out of road racing, and I actually raced in World Challenge in 2001-2002 with Porsche, which is where I actually started my career. And then I signed with BMW for 4 years, and we drove in the Rolex and ALMS series, but at the end of 2006 I moved to North Carolina to pursue a career in stock car racing. I ran two years in the ARCA series, I ran two years in the Camping World Truck series, and then I made a handful of Nationwide Series starts over the years, so that's sort of where I settled down for a while. But I think the viability of that kind of racing from a marketing standpoint is starting to deteriorate, and it's really starting to favor the "stars" of the sport and making it difficult for people that don't have big names to attract the dollars and get good rides. I wanted to focus on something that was a bit more even playing field and more economical for our marketing partners, in a series that was a lot of fun and has good venues and I think World Challenge has always been right up there on that list.
Photos: Richard Prince Photography