58th Running of Twelve Hours of Sebring Field Boasts Several Le Mans Contenders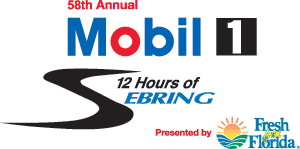 On Saturday, March 20th, 2010 the 58th running of the Mobil 1 Twelve Hours of Sebring presented by Fresh from Florida takes the green flag, kicking-off the 2010 American Le Mans Series presented by Tequila Patron. Every March, Sebring signals the start of the international sports car racing season, attracting thousands of racing fans from around the world.
The road to Le Mans begins at Sebring for several teams entered in the Mobil 1 Twelve Hours of Sebring. Defending Le Mans champion Peugeot and Aston Martin Racing will battle in the LMP1 category at Sebring, hoping to gain the edge heading into the 24-hour French classic. In the LMP2 class, the Highcroft HPD team has its sights set on a class victory at Le Mans. Sebring's GT2 field has several teams heading to Le Mans, including Corvette, Risi Ferrari, Flying Lizard Porsche and RSR Jaguar teams. The 58th running of the Mobil 1 Twelve Hours of Sebring presented by Fresh from Florida takes the green flag at 10:30 am on Saturday, March 20th, kicking-off the 2010 American Le Mans Series presented by Tequila Patron.
It was only three years ago that the GT2 class produced the closest finish in Sebring history. The Risi Ferrari with Jaime Melo at the wheel edged Joerg Bergmeister in the Flying Lizard Porsche by less than one second, a finish never to be forgotten. Those two teams are among the favorites this year, but will face stiff competition from Corvette Racing, the Rahal-Letterman BMW team, Scott Sharp's new Extreme Speed Motorsports Ferrari team, Paul Gentilozzi's new Rocket Sports Racing Jaguar team and Robertson Racing's Ford GT. And that's not all- Porsche entries from Team Falken and Black Swan Racing will be in the battle as well.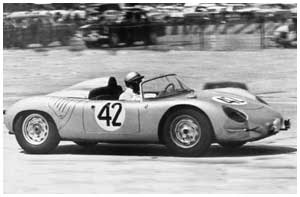 Hans Herrmann Returns to Sebring to Commemorate 50th Anniversary of Porsche's first Sebring Victory. Fifty-years ago Porsche scored its first major international overall victory at Sebring's 12-hour classic. Hans Herrmann and Olivier Gendebien drove a Porsche RS60 to victory, finishing nine laps ahead of another Porsche driven by Bob Holbert and Roy Schechter.
Since then, Porsche has built an unsurpassed resume of records at America's greatest sports car race. The German manufacturer has accumulated 18 overall wins and 65 class victories in six decades of racing at Sebring. Porsche has led 4,198 laps (19,977 miles) at the legendary Florida circuit.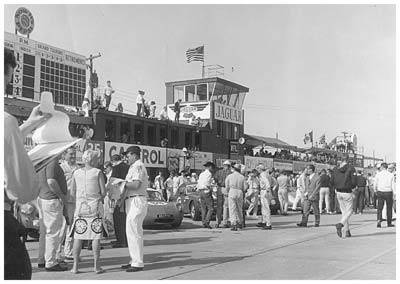 Al Holbert, Hans Herrmann, Vic Elford, Hurley Haywood, Bobby Rahal, Brian Redman, Hans Stuck and A.J. Foyt and are just a few of the drivers who have celebrated in Sebring's victory lane after piloting a Porsche to victory. Porsche was inducted into the Sebring Hall of Fame as part of its inaugural class in 2002.
From Runways to Raceway
Nestled among the orange groves and cattle ranches of Highlands County Florida, Sebring may seem an unlikely place for America's premier sports car endurance race. Sebring's road course originated from a WWII B-17 training base known as Hendricks Field, constructed in 1941. While few remnants of the air base exist, the track still utilizes portions of the old Army Air Force airfield runways. It all started when sports car enthusiast and aviation businessman Alec Ulmann promoted the first sports car race at Sebring in 1950, and established the 12 Hours of Sebring in 1952. Since then, 684 hours of racing covering 2.3 million miles have produced some of the greatest moments in sports car racing history. Over 3,000 drivers have raced at Sebring, but only 105 have managed to win the world's toughest endurance race. Among them are Mario Andretti, Stirling Moss, A.J. Foyt, Dan Gurney, Juan Manuel Fangio and Phil Hill.


Sebring's legacy of endurance goes back to World War II. A B-17 named "Lightning Jim" logged 8,000 hours of flying time while based at Hendricks Field, representing over 332 days in the air. Today, Sebring has become the ultimate proving ground for automotive manufacturers. Over 130 different marques have raced at Sebring, but only seven manufacturers have managed to win the famous race more than one time. Porsche leads with a record 18 victories, followed by Ferrari with 12. With Aston Martin and Peugeot among the favorites, this year will likely see a first-time winner.
Source: Sebring International Raceway
Photos Courtesy Sebring International Raceway