24 Irrelevant Questions Leading to the 24: Lars Giersing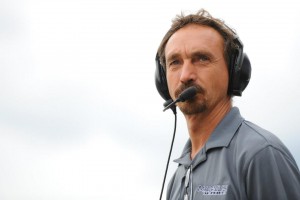 If you don't know Magnus Racing Engineer Lars Giersing, don't worry. You're not alone. No one really knows him, except maybe his wife. Hailing from Denmark and currently living in the British Virgin Islands, Lars has been a staple of the sportscar scene for the last decade, with a particular reputation for knowing his way around a Porsche. Having won three Rolex GT championships over a five year period, Lars has been with Magnus since their very first race in 2010. As is often the case, we give our drivers the credit when we have a good day, but it's usually Lars' fault when we have bad one, and yet somehow he takes it in stride. 2012 was a great year for Lars and the Magnus crew, not only winning at Indy and the North American Endurance Championship, but delivering Giersing's first ever victory at The Rolex 24.
As the team continues its pre-season preparation for next January's 51st Running of The Rolex 24 at Daytona, we figured we'd introduce you to different team members every Wednesday, featuring a series of questions that won't really help you know them any better.
1. YOU LIVE IN THE BRITISH VIRGIN ISLANDS. DO YOU KNOW RIHANNA?
Yes, she bought a piece of land near me.
2. DO YOU THINK RIHANNA SHOULD GET BACK TOGETHER WITH CHRIS BROWN?
Who the hell is he??
3. WHAT DO YOU THINK IS THE MOST UNDERRATED RIHANNA SONG?
I really don't know any of her songs, is she a country singer?
4. HAVE YOU EVER WORRIED THAT SEAN PENN MAY SET UP CAMP ON YOUR FRONT LAWN?
Who the hell is he??
5. YOU'RE FROM DENMARK. IT SEEMS LIKE EVERYONE WE MEET FROM DENMARK CLAIMS TO BE A DANISH CELEBRITY, IS THAT A SOCIALIST THING?
We are all celebrities. And vikings.
6. DID YOU KNOW THAT THE DANISH AND THE DUTCH ARE FROM DIFFERENT COUNTRIES?
What do you think, I'm not a Yankee.
7. WHO IS THE MOST OVER-RATED DANISH CELEBRITY?
The Queen.
8. DO THE DUTCH EVEN HAVE CELEBRITIES?
No way.
9. WHY DO FINNISH PEOPLE HAVE NO PERSONALITY?
You try and drink that much and see if you have any personality left.
10. WOULD YOU WATCH KIMI RAIKKONEN DO STAND-UP?
Who the hell is he??
11. DURING A TEAM WEBCAST, IT WAS SAID THAT YOU WEAR YOUR EMOTIONS ON YOUR SLEEVE. THE PROBLEM IS, YOU LEFT THAT SHIRT AT HOME. WHO DOES YOUR LAUNDY?
We hang it out in the rain. It's still there.
12. HAVE YOU EVER SMILED? EVER?
Once. Someone bought me a very large beer.
13. ANDY LALLY SEEMS TO BE CONCERNED WITH EVERYTHING BUT DRIVING OVER THE RADIO. WOULD HE MAKE A GOOD TV REPORTER?
Yup, they would be able to do the entire 24 with only one commentator.
14. ANDY LALLY WON TWO MORE STREET LUGE WORLD TITLES THIS YEAR. DO YOU LOOK AT HIS CAREER GOING DOWNHILL AS A POSITIVE?
It's incredible.
15. JOHN POTTER HAS COME A LONG WAY AS A DRIVER SINCE STARTING MAGNUS. IS THAT ALL ENGINEERING?
Definitely. What else could it be???
16. WHAT IS JOHN POTTER'S MOST MEDIOCRE ATTRIBUTE?
He doesn't like beer.
17. DO YOU THINK JOHN POTTER COULD BE A DANISH CELEBRITY TOO?
Well he looks somewhat Danish, why not, but he will have to take up beer drinking. It's a National Pass Time.
18. IF YOU WERE TO GO WATCH A TYLE PERRY MOVIE WITH JOHN POTTER AND RIHANNA, WHICH MOVIE WOULD IT BE?
Who the hell is Tyler Perry?? But I'll watch a movie with Rihanna.
19. YOU HAVE TO BOTH ENGINEER THE CAR AND CALL RACE STRATEGY. IF YOU COULD ALSO LEARN TO SING THEY'D CALL YOU A "TRIPLE THREAT." IS THAT IN YOUR FUTURE?
You obviously have not heard me sing, since you could suggest this.
20. YOU EAT A LOT OF THAI FOOD. WHICH CITY HAS THE HOTTEST ASIAN WAITRESSES?
Salt Lake City. We once had a Thai waitress by the name of Porn. Try to beat that anywhere.
21. CAN YOU THINK OF A TWENTY-FIRST QUESTION?
How did the Danish Vikings lose Northern Europe, England, Scandinavia and North America? Did they really get that drunk???
22. WE JUST DISCOVERED THAT YOU'RE ON FACEBOOK. WHAT HAS BEEN YOUR FAVORITE PICTURE OF FOOD SO FAR?
A big cold mug of beer. What? Beer is food also.
23. LEWIS HAMILTON RECENTLY "ACCIDENTALLY" TWEETED CONFIDENTIAL ENGINEERING DATA. WHAT WOULD YOU DO IF YOU WERE HIS ENGINEER?
Who the hell is Lewis Hamilton, and what is tweeting? For that matter, what is engineering data? You forget I'm a farmer..
24. 2013: ANOTHER DAYTONA WIN, ANOTHER INDY WIN, OR A CHAMPIONSHIP?
Daytona and a Championship. Let's do it!
Source: Magnus Racing