1981 Rolex 24 Overall Champion Porsche 935 Added to 50th Anniversary Display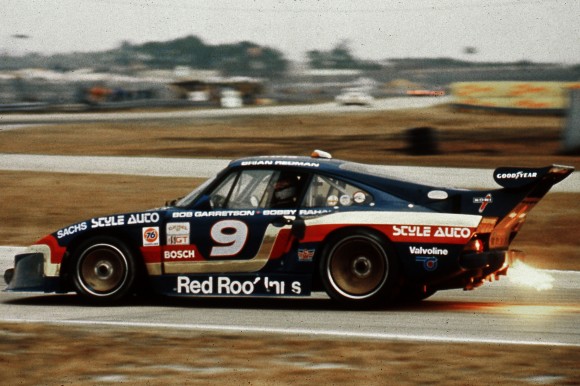 The No. 9 Bob Garretson's Style Auto Porsche 935, driven to victory in the 1981 Rolex 24 At Daytona by Bobby Rahal, Brian Redman and Garretson, will join the display of past overall Rolex 24 At Daytona championship cars as part of the 50th anniversary celebration of the twice-around-the-clock challenge on Jan. 28-29, 2012.
The Rolex 24 victory was a significant moment for the young Rahal, who went on to a successful open-wheel racing career as a driver and owner including a win in the 1986 Indianapolis 500. For Redman, it was his third and final victory for the sports car legend in the prestigious endurance race.
The No. 9 Porsche joins the growing field of prestigious championship cars in the display:
The Porsche 907 from the 1968 Rolex 24
The Preston Henn Porsches from the 1983 and 1985 Rolex 24s
 Additional winning cars will be announced in the coming months as they are secured to be part of this one-of-a-kind display.
Under the direction of Redman, the No. 9 Porsche 935 ran a steady and conservative pace in the 1981 Rolex 24 and avoided turbocharger problems that claimed many of the other top contenders.
Throughout qualifying and in the race, Redman insisted the team not show their full hand. Entering the race weekend, he had no interest in the pole and didn't want to see the car at the head of the field for the first 20 hours.
The strategy paid off. With exception of a crack exhaust header and a right-front suspension issue, the car ran a smooth race. Redman, Rahal and Garretson claimed the win by a margin of 13 laps and covered 2,718.72 miles, 708 laps with an average speed of 113.153 mph.
The Rolex 24 At Daytona, the kick-off event to Speedweeks 2012 as well as the international motorsports calendar, showcases the world's best drivers competing against each other lap after lap for 24 hours on Daytona International Speedway's challenging and demanding 3.56-mile road course.
Tickets for the 50th anniversary of the Rolex 24 At Daytona are on sale online at www.daytonainternationalspeedway.com or by calling 1-800-PITSHOP.
Fans can stay connected with Daytona International Speedway on Twitter (www.twitter.com/disupdates) and Facebook (www.facebook.com/DaytonaInternationalSpeedway).
Source: Daytona International Speedway